iFix Computer Services, computer repairs, IT support & managed services
Business IT Support Contracts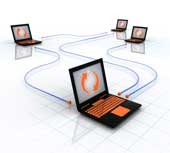 If you work in a small/medium business or small office/home office (SOHO) and would you like the benefits of your own IT department without the staffing issues and costs, then we suggest you take out an IT support contract. If you are interested in getting a quote then please either call or email.
We take responsibility for the smooth running of your systems, so you don't have to worry. We provide you with a highly effective computer maintenance and IT support service for a low fixed monthly price, so you know exactly what your IT budget will be, with no surprises. By taking out an IT support contract you will receive the following key benefits:
1. Real cash savings
By reducing faults, maintaining system efficiency and providing you with advice on best use, we can help to reduce your IT costs. A fully managed service which offers the quality, reliability and trust of your own in-house IT department but at a fraction of the cost.
2. Your IT responsibilities removed
You and your staff can focus on your core business rather than be sidelined with technology issues. Leave the operation of your computer systems to the experts to ensure they run well. No more worries about breakdowns, viruses, malware etc..
3. Unlimited telephone support (dependent on contract level)
You and your staff have access to our helpful technical experts via telephone.
4. Instant remote support service
We can fix around 90% of computer problems remotely, saving you time and money. It is totally secure and means that we can fix most issues quickly and with minimal disruption to your business, without you having to wait for a visit.
5. On-site visits
If we can't fix your system remotely, we will visit your site at your convenience.
6. Proactive maintenance (dependent on contract level)
We will run regular housekeeping tasks and activities on your computers to ensure they are always in tip-top condition. We'll defragment the disk, check it for errors, remove temporary files and give your computer a general spring clean on a regular basis. This will help to ensure your computers continue to run as smoothly as possible.
7. Regular monitoring
We will monitor your IT equipment for early signs of trouble. Often we find faults and fix them even before you're aware that anything is wrong, preventing interruption to daily activities.
8. Operating System and security updates
We will make sure your Operating System and anti-virus / anti-spyware has the latest software patches installed, keeping your system more secure and efficient.
9. Data backup (dependent on contract level)
We can provide an automated off-site backup solution, giving you peace of mind in case of IT equipment failure or any on-site disaster. This ensures your business is back up and running with the least possible disruption.
10. Contract tailored for YOU
No two businesses are the same, nor their IT requirements. We will tailor your IT support contract to suit your requirements.
11. No lengthy tie-in period
We will not tie you in to a lengthy contract and if you are not happy with our service, or your circumstance change, contracts can be terminated by giving us one month's notice.


Non contract support.
All of the above services are available without an IT support contract and will be charged on an hourly basis. If you think that your IT support requirements are relatively low, then we are happy to provide non contract support at very competitive hourly or daily rates.


Staff training.
If you require either one-to-one or classroom training in any IT package, we will be happy to provide a course tailored to your needs.